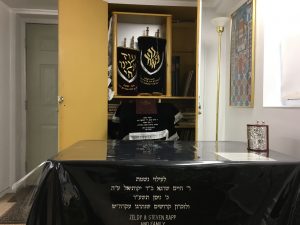 The SDC has significantly expanded its purview since its early days, as is described in the history section. Presently, it offers services during every evening connected with a Shabbos or Yom Tov throughout the year, whether such evening begins, or ends, or is in the middle of, the yom tov/Shabbos day(s).  If there is a halachic impediment to driving a car in either direction, because of Shabbos or yom tov, the minyan is in session.  As examples, the minyan meets on Friday evenings and Saturday afternoons, as indicated above, and also on the nights of Rosh Hashana, Pesach, Succos and Shavuos, including on Simchas Torah night.  Additionally, the minyan has met for years on Kol Nidre night, and, as of 2016, began to meet as well for Mincha and Ne'ilah on Yom Kippur.   When either Purim or Tisha B'Av begins on Saturday night, the designated Megilla is read after Maariv at the SDC.
As an additional community service, the SDC has often instituted minyanim on the mornings of Pesach, Shavuos and Succos, to accommodate nearby families who have older parents and parents-in-law in their homes for yom tov and need a more accessible synagogue for the guests.   During some years, all of the yom tov mornings see minyanim in session.   Similarly, Saturday morning services have been arranged on occasion, to accommodate visiting elderly relatives, or when snowstorms, severe cold, and other weather conditions create a demand for a nearby minyan.  An email list of all members and non-member participants is maintained by Mr. Paul Wolf, who keeps more than 70 local families informed of all SDC activities, including the schedule of both regular and ad hoc minyanim.
Beginning in mid-2016, in response to popular demand, the SDC expanded its offerings to include at least one Saturday morning minyan each month. This accommodates not only people who want or need closer services, but also those who long for a small, intimate, low-key and welcoming Shabbos morning minyan, worthy of its name "Bais Sholom."  Davening is always followed by a full Kiddush. 
It should be noted that, on Saturday mornings, as well as on other occasions when women worshippers are expected (such as on Yom Kippur), a special women's section is set up.   (If one or two women do seek to attend at other times, as happens on occasion, they are accommodated with sensitivity and space is made for them).